A team from Shotblast Solutions Limited installed a new machine for Clark Tracks based in Dumfries, in the south west of Scotland.

Clark Tracks part of Nordic Traction Group specialise in developing and manufacturing forest machine tracks to suit almost all cut to length machines and skidders to manufacturers around the world. Due to increased demand a new machine was required to help speed up production, improve dust control and reduce manual handling.
Following a consultation with experts from Shotblast Solutions Limited, a machine to meet the specifications of the client were agreed and a team from Shotblast Solutions put in place to oversee and manage the dismantling of the old machine from site and assemble, install and commission the new machine.
We take enormous care and due diligence in our work to protect the safety of people, machinery and equipment.
The machine was delivered in April 2018 and fully commissioned by May 2018.
Please contact us for a quote today on any of the following:
Emergency call out and breakdowns
Regular service contracts & routine maintenance
Machine removal and installation
Local Exhaust Ventilation Testing (LEV Testing)
General inspection and survey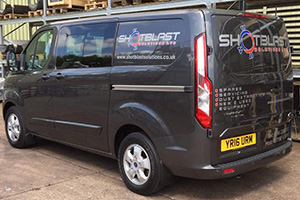 Helping you to deliver
Working in tandem with clients, our technical and experienced management team are able to create tailored packages and solutions to meet a variety of machine refurbishment, installation and performance improvement needs.