Shotblast Solutions regularly carry out service work for JCB Compact Ltd (JCB) in Cheadle. Earlier this year, JCB contacted us to see if we could help with building a new acoustic enclosure.

An acoustic enclosure helps to reduce noise levels from industrial activity. Following a consultation with our lead technical engineer to discuss solutions available, materials, and paint finish a new acoustic enclosure was created. This was fitted with access points for maintenance and operation as well as mounting points for confined space lifting equipment and rescue harnesses.
The acoustic booth was fitted within 3 days and has significantly reduced the noise level. Compared with other suppliers offering a similar service, we were able to create a tailored package for JCB that offered value for money.
Please contact us for a quote today on any of the following:
Emergency call out and breakdowns
Regular service contracts & routine maintenance
Machine removal and installation
Local Exhaust Ventilation Testing (LEV Testing)
General inspection and survey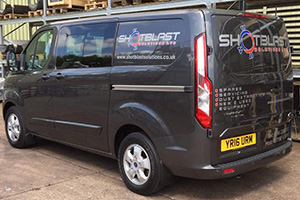 Helping you to deliver
Working in tandem with clients, our technical and experienced management team are able to create tailored packages and solutions to meet a variety of machine refurbishment, installation and performance improvement needs.